A variable-frequency drive (VFD) (also termed adjustable-frequency drive, variable-speed drive, AC drive, micro drive orinverter drive) is a type of adjustable-speed drive used in electro-mechanical drive systems to control AC motor speed andtorque by varying motor input frequency and voltage

VFDs are used in applications ranging from small appliances to the largest of mine mill drives and compressors. However, about a third of the world's electrical energy is consumed by electric motors in fixed-speed centrifugal pump, fan and compressor applicationsand VFDs' global market penetration for all applications is still relatively small.

This highlights especially significant energy efficiency improvement opportunities for retrofitted and new VFD installations. Over the last four decades, power electronics technology has reduced VFD cost and size and improved performance through advances in semiconductor switching devices, drive topologies, simulation and control techniques, and control hardware and software.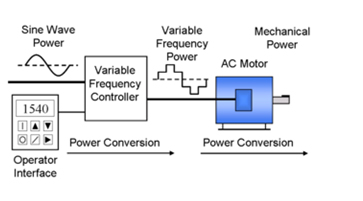 Many fixed-speed motor load applications that are supplied direct from AC line power can save energy when they are operated at variable-speed, by means of VFD. Such energy cost savings are especially pronounced in variable-torque centrifugal fan and pump applications, where the loads' torque and power vary with the square and cube, respectively, of the speed.

This change gives a large power reduction compared to fixed-speed operation for a relatively small reduction in speed. For example, at 63% speed a motor load consumes only 25% of its full speed power. This is in accordance with affinity laws that define the relationship between various centrifugal load variables
Control performance
AC drives are used to bring about process and quality improvements in industrial and commercial applications' acceleration, flow, monitoring, pressure, speed, temperature, tension and torque.[36] Fixed-speed operated loads subject the motor to a high starting torque and to current surges that are up to eight times the full-load current.

AC drives instead gradually ramp the motor up to operating speed to lessen mechanical and electrical stress, reducing maintenance and repair costs, and extending the life of the motor and the driven equipment.

Variable speed drives can also run a motor in specialized patterns to further minimize mechanical and electrical stress. For example, an S-curve pattern can be applied to a conveyor application for smoother deceleration and acceleration control, which reduces the backlash that can occur when a conveyor is accelerating or decelerating.

Performance factors tending to favor use of DC, over AC, drives include such requirements as continuous operation at low speed, four-quadrant operation with regeneration, frequent acceleration and deceleration routines, and need for motor to be protected for hazardous area.[37] The following table compares AC and DC drives according to certain key parameters
Variable frequency drives are also categorized by the following load torque and power characteristics:
| | |
| --- | --- |
| • | Variable torque, such as in centrifugal fan, pump and blower applications |
| • | torque, such as in conveyor and displacement pump applications |
| • | Constant power, such as in machine tool and traction applications. |